We Create Fast Reliable Bespoke Software.
Database System Specialists.
Power Apps.
SharePoint.


Concerned about your spreadsheets?
Are the spreadsheets on which your business depends holding you back?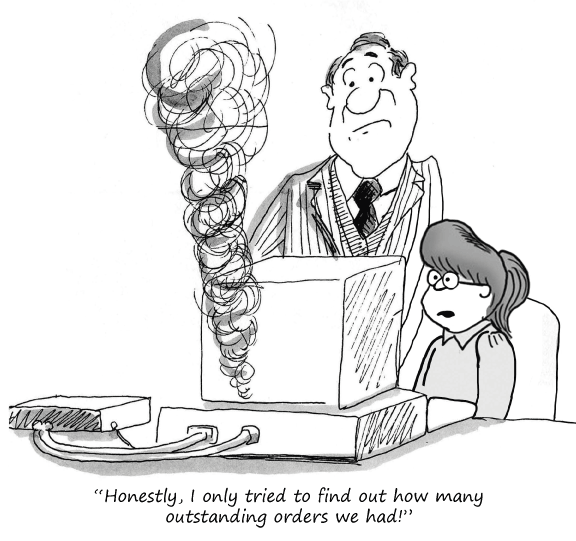 A database system will allow you to use, report on and manage your data easily - while reducing error, saving time, increasing security and freeing you and your team to be more productive.
What are custom (or bespoke) software systems?
And Rocky the IT Dog helps to explain the pros and cons:
Areas we cover include:
Order/service fulfilment - controlling your steps from customer contact to delivery
Production control (including, for example, complex Bill of Material use and control)
Quotation production and costing
Performance analysis/communication (e.g. KPI - Key Performance Indicator - systems)
Document assembly/generation (e.g. where the contents and layout of a document need to be automatically altered depending on inputs. This could be a quote, contract or a delivery document that varies depending on the product or service being offered)
Maintenance scheduling (including, for example, a look ahead per machine of planned work or reported issues)
Stock control
Customer Relationship Management systems (CRM)
Systems for use on PCs, tablets and other touch screens
The list above is not exhaustive - all our systems are bespoke: designed and created to a company's requirements. Our business is all about communication, making sure that both we and our clients know what their business needs. So all the systems are different.
What makes us the right choice?
Our recognition that there is a "people" side to IT.
Our knowledge and experience of both business and technology.
Our specialisation in manufacturing, engineering, the process industry, construction and industrial services.
We have a track record of working with businesses and helping them use IT to be more profitable – with a can-do, down to earth approach, backed by industry recognised business and technical knowledge.
We create bespoke software systems for large and small organisations. We also help businesses get more from their existing systems, by linking them together and/or extending them to improve speed and productivity. IT Accessed also ensures that users are trained to operate their systems safely and efficiently.
We are based in the North East of England, in North Yorkshire next to the South Durham border and a few miles west of Teesside. We work very successfully with clients locally and UK-wide.
Tell us about your business!
Going through change?
Star employees doing mundane tasks?
Have a great idea but need resources?
Want to do more with what you've got?
From our very well informed Office Dog, Biba, at the Yelpdesk...